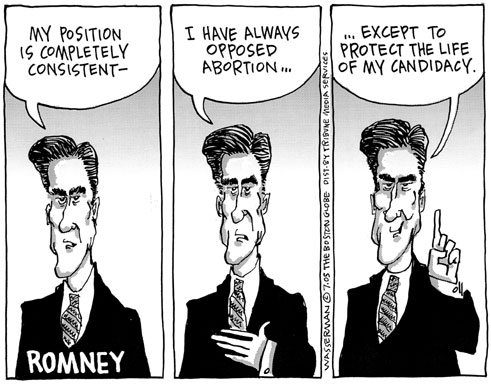 Much was made recently about Mitt Romney's immigration flip-flop (he criticized the current immigration bill but supported virtually the identical legislation in 2005), leading John McCain to remark:
"In the case of Gov. Romney, maybe I should wait a couple weeks and see if [his position] changes," said McCain on a conference call Monday to journalists. "Because it's changed in less than a year from his position before."
Now, in an effort to clarify, Mitt Romney seems to have flip-flopped again on his past flip-flop! From the Palm Beach Post:
Mitt Romney offered a mixed message on illegal immigrants Thursday, saying he supports allowing them to apply to become permanent residents but opposes current legislation that would allow them to do just that.
Does this man have ANY core convictions?